Assisted Living
Licensed Assisted Living is state licensed residential care that includes meals, housekeeping, laundry, activities, and transportation and the option of living in a private apartment. Different levels of care and services indicate an additional monthly fee. American House Bonita Springs is a Licensed Assisted Living community offering seniors and their families the independence they want and the assistance they may need. Whether our residents need help with day-to-day activities, mobility, medication management, or bathing and dressing assistance, American House Bonita Springs in Bonita Springs Florida, creates customizable care plans to fit your needs.
In addition to licensed assisted living at American House Bonita Springs, residents will enjoy both independence and peace of mind with apartment-style living, plus the convenience of services like restaurant-style dining, housekeeping, diverse resident programming, and transportation. At American House, we adhere to state-of-the-art standards of senior living while providing a personalized touch of home. Our residents receive personal and comprehensive care and are consistently treated with the dignity and respect they deserve. Residents can rest assured knowing they will be in good hands.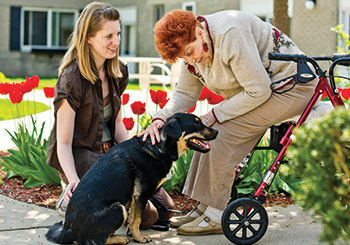 Situated in beautiful surroundings, our Licensed Assisted Living community has been purposefully designed to provide you or your loved one with a nurturing, comfortable, home-like environment that is attractive and easy to navigate. We foster community and family by hosting activities, outings, and events each month. Residents will be encouraged to participate in as many or as little as they like. No matter what you choose, everyone is cared for as an individual with unique needs and desires. That is our promise to you.