Assisted Living
Situated in beautiful surroundings, Assisted Living at American House Jenison has been purposefully designed to provide you or your loved one with a nurturing, comfortable, home-like environment that's attractive and easy to navigate. We foster community and family by hosting activities and events that encourage relationship building. Residents are encouraged to participate in as many pursuits and outings as they like. All of our residents are treated as an individual with unique needs and desires that are always honored.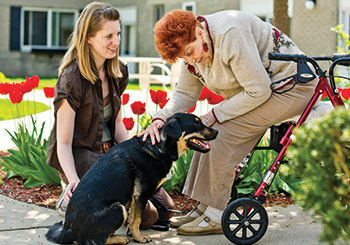 American House Jenison is a licensed Assisted Living community. Whether residents need help with day-to-day activities, mobility, medication management, or bathing and dressing assistance, our compassionate and competent staff are available 24-hours a day. In addition to Assisted Living, residents enjoy both independence and peace of mind with apartment-style living.
Contact American House Jenison to learn more about our Assisted Living options.