Assisted Living
Situated in beautiful surroundings, Assisted Living at American House Sterling Meadows has been purposefully designed to provide you or your loved one with a nurturing, comfortable, home-like environment that's attractive and easy to navigate. We foster community and family by hosting activities and events that encourage friendship and facilitate new experiences. Residents are encouraged to participate in as many or as few pursuits and outings as they like. At American House, you can trust that your individuality and uniqueness will always be honored and celebrated.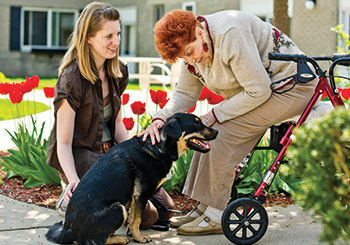 Important Information
American House Sterling Meadows is not a licensed Assisted Living community. Any and all health care services are arranged and contracted by the individual resident with a 24-hour, on-site Medicare-certified, third-party home health agency offering seniors and their families the independence they want and the assistance they may need. Whether our residents need help with day-to-day activities, mobility, medication management, or bathing and dressing assistance, the home health care company kindly and competently meets their needs with customized care plans.
Contact American House Sterling Meadows to learn more about our Assisted Living options.
*Emergency response systems and other medical and personal support services provided on-site 24/7 by a Medicare-certified, third-party home health agency not affiliated with American House. Hospice care provided onsite by local hospice organizations upon resident or family request.